Archive for the 'Black & White Recipes' Category
Black and White Cupcakes
The Mustache cupcake toppers I created earlier and posted can be found here these would make a good addition to the top of these cupcakes: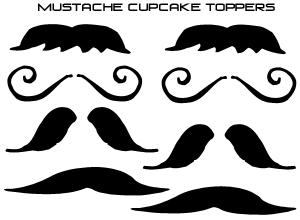 http://iezombie.com/mustache-cupcake-toppers
Ingredients:
Chocolate icing:
1/4 cup whipping cream
1 tablespoon light corn syrup
4 ounces bittersweet (not unsweetened) or semisweet chocolate, chopped
1/2 teaspoon vanilla extract
White icing:
1 cup powdered sugar
2 tablespoons whipping cream
2 teaspoons fresh lemon juice
Cupcakes:
3 large eggs, room temperature
1 teaspoon vanilla extract
1 teaspoon grated lemon peel
1 1/2 cups cake flour
3/4 teaspoon baking powder
1/4 teaspoon salt
1 1/4 cups sugar
3/4 cup (1 1/2 sticks) unsalted butter, room temperature
1/3 cup buttermilk
Directions:
For chocolate icing:
Bring cream and corn syrup just to simmer in heavy small saucepan over medium heat. Remove from heat. Add chocolate and vanilla; whisk until melted and smooth.
For white icing:
Whisk all ingredients in small bowl to blend. Let both icings stand 1 1/2 hours at room temperature to thicken.
For cupcakes:
Preheat oven to 325°F. Line 12-cup muffin tin with paper liners. Whisk eggs, vanilla, and lemon peel in medium bowl to blend. Mix cake flour, baking powder, and salt in another medium bowl. Using electric mixer, beat sugar and butter in large bowl until well blended, stopping occasionally to scrape down sides of bowl. Gradually beat in egg mixture. Beat in dry ingredients alternately with buttermilk in 2 additions each.
Divide batter among cups. Bake until tester inserted into centers comes out clean, about 25 minutes. Cool cupcakes in pan on rack 5 minutes. Remove cupcakes from pan and cool completely.
Spread chocolate icing over half of each cupcake. Spread white icing on second half of each cupcake. Let stand until set, about 1 hour. (Can be made 1 day ahead. Store in single layer in airtight container at room temperature.)
Read More http://www.epicurious.com/recipes/food/views/Black-and-White-Cupcakes-108319#ixzz2BZBIESA0