October is National Cookie Month – 31 Days of Recipes to Celebrate
October 1 – Pumpkin Cookies
http://www.pinterest.com/pin/195273333818772664/
October 2 – Crisp Almond Cookies
http://www.pinterest.com/pin/30047522489271698/
October 3 – Old Fashioned Peanut Butter Cookies
http://www.cookingonthefrontburners.com/2014/08/old-fashioned-peanut-butter-cookies.html
October 4 – Peanut Butter Monster Cookies
http://lemon-sugar.com/2012/10/peanut-butter-monster-cookies.html/
October 5 – Raspberry Meringue Cookies
http://onesweetappetite.com/raspberry-meringue-cookies/
October 6 – Chocolate Salted Caramel Cookies
http://crazylittleprojects.com/2014/09/chocolate-salted-caramel-cookies.html
October 7 – Butterscotch Cookies
http://thefrugalgirls.com/2013/08/butterscotch-cookie-recipe.html
October 8 – Mint Chocolate Cookies
http://craftyc0rn3r.blogspot.com/2012/09/mint-chocolate-cookies.html
October 9 – Snowdrops Cookie
http://completerecipes.com/-Snowdrops-Cookie-Recipe-.html?back_url=./
October 10 – Caramel Candy Corn Cookies
http://www.housewivesofriverton.com/2014/09/caramel-candy-corn-cookies_29.html
October 11 – Chewy Brown Sugar Cookies
http://sallysbakingaddiction.com/2013/12/20/chewy-brown-sugar-cookies/
October 12 – Homemade Thin Mints
http://www.pinterest.com/pin/505810601873067132/
October 13 – Dark Chocolate Cookies & Cream Cookies
http://www.pinterest.com/pin/16958936072028311/
October 14 – Chewy Pumpkin Cookies
http://thedomesticrebel.com/2014/09/30/the-best-chewy-pumpkin-chip-cookies/
October 15 – Raspberry Kiss Cookies
http://www.notjustahousewife.net/2014/09/swedish-raspberry-kiss-cookies.html
October 16 – Homemade Turtles
http://www.pinterest.com/pin/56787645277249278/
October 17 – Candy Corn Sugar Cookie Bars
http://www.pinterest.com/pin/502644008385169373/
October 18 – Toasted Coconut White Chocolate Chip Cookies
http://www.pinterest.com/pin/224476362652373410/
October 19 – Chocolate Reeses Cookies
http://www.itsalwaysautumn.com/2012/10/04/15-minute-chocolate-reeses-cookies.html
October 20 – Pumpkin Chocolate Chip Cookies
http://lecremedelacrumb.com/2014/10/pumpkin-chocolate-chip-cookies.html
October 21 – Raspberry Meringue Cookies
Celebrate October with these Food Holidays all Month Long!
Printable October Calendar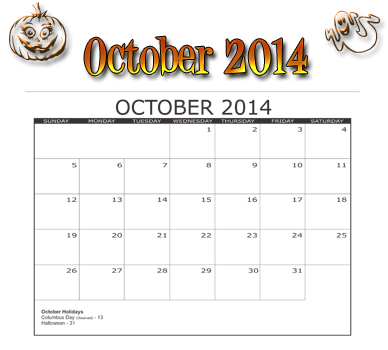 October Birth Flower is Pumpkin Bloom
October Birthstone is Opal
Zodiac for October
Libra – September 23 – October – 22 – Libra is balance, harmony, and love of beauty seeking self-completion.  The house where your Libra rules is where you will be challenged to find balance. Here your ability to see both sides of any issue can lead to difficulty making choices.
Scorpio – October 23 – November 21 – Scorpio is intense emotional power probing and penetrating into the unconscious; seeking the power of transformation at work in ordinary reality; seeking to accept all that is frightening or overwhelming.  The house where your Scorpio rules is where you will be challenged to completely transform your life. You seek control in this part of your life and can be manipulative and secretive.
(Information from http://www.djay.com/astrol/astrol_7.html)
Food Holidays for October
Spinach Lovers Month
National Tomato Month
National Seafood Month
National Chili Month
National Pork Month

National Pretzel Month

National Dessert Month

National  Apple Month

Eat Country Ham Month

National Pickled Peppers Month

Vegetarian Awareness Month

National Pasta Month
October Month-long observances
Country Music Month
Family History Month
Computer Learning Month
Hispanic Heritage Month
National Book Fair Month
National Car Care Month
Gourmet Adventures Month
National Cosmetology Month
Polish American Heritage Month
Breast Cancer Awareness Month
National Stamp Collecting Month
National AIDS Awareness Month
National Cyber Security Awareness Month
National Collegiate Alcohol Awareness Month
National Depression Education and Awareness Month
Weekly
National Chili Week (1st Week)
American Beer Week (2nd Week)
National Food Bank Week (2nd Week)
National School Lunch Week (2nd Week)
National Kraut Sandwich Week (3rd Week)
Pickled Peppers Week (3rd Week)
Chicken Soup for the Soul Week (4th Week)
Week One
Newspaper Week
Get Organized Week
Customer Service Week
Skin Care Awareness Week
Teller Appreciation Week
Mental Illness Awareness Week
National Pickled Pepper Week
National Fire Prevention Week
Universal Children's Week
National Newspaper Week
Mental Illness Awareness Week
National Human Service Awareness Week
Wegener's Granulomatosis Awareness Week
Week Two
Space Week
Metric Week
Pet Peeve Week
Credit Union Week
Organize Your Files Week
Squirrel Awareness Week
Home Based Business Week
National School Lunch Week
Fire Prevention Week
Week Three
Wildlife Week
Radon Action Week
World Rainforest Week
Peace With Justice Week
Hepatitis Awareness Week
Dystonia Awareness Week
Adult Immunization Awareness Week
National School Bus Safety Week
World – Beat a Path to Your Door Week
National Forest Products Week
National Consumers Week
Business Women's Week
Infection Control Week
Week Four
National Magic Week
Save Your Back Week
World Rainforest Week
Red Ribbon Celebration
National Business Women's Week
Peace, Friendship and Goodwill Week
October is National Popcorn Poppin' Month – 31 Days of Recipes to Celebrate
October 1 – Payday Caramel Corn
http://www.pinterest.com/pin/56787645274792737/
October 2 – Jello Pop Corn Balls
http://www.pleasant-home.com/2009/10/jell-o-popcorn-balls.html
October 3 – Salted Caramel Cashew Pop Corn
http://www.bakeyourday.net/salted-caramel-cashew-popcorn/
October 4 – Gingerbread Caramel Corn
http://www.pinterest.com/pin/83175924340635953/
October 5 – Perfect Homemade Popcorn
http://www.browneyedbaker.com/how-to-make-perfect-homemade-popcorn/
October 6 – Pumpkin Glazed Pop Corn
http://realfoodrealdeals.com/2012/10/10/pumpkin-glazed-popcorn/
October 7 – Sweet Fall Party Pop Corn
http://www.chef-in-training.com/2012/10/sweet-fall-party-popcorn/
October 8 – White Chocolate Popcorn
http://www.the36thavenue.com/white-chocolate-popcorn-recipe
October 9 – Halloween Popcorn Balls
http://www.pinterest.com/pin/132293307779544477/
October 10 – Soft Caramel Pop Corn Ball
http://www.caramelpotatoes.com/2012/10/26/soft-caramel-popcorn-balls/
October 11 – Easy Pop Corn Ball
http://www.ihearteating.com/2013/10/16/easy-popcorn-ball-recipe/
October 12 – Salted Caramel Popcorn
http://www.pinterest.com/pin/193865958934819683/
October 13 – Butter Finger Pop Corn
http://myrecipemagic.com/recipe/recipedetail/butterfinger-popcorn-recipe
October 14 – Red Velvet Pop Corn
http://www.tasteandtellblog.com/red-velvet-popcorn-cake/
October 15 – Sweet and Salty Marshmallow Pop Corn
http://www.twopeasandtheirpod.com/sweet-and-salty-marshmallow-popcorn/
October 16 – Pumpkin Pie Spice Popcorn with White Chocolate
http://www.pinterest.com/pin/226376318744680672/
October 17 – Reese's Krispies Popcorn
http://www.pinterest.com/pin/157555686939635448/
October 18 – Caramel Nutella Popcorn Recipe
http://www.remodelaholic.com/2013/09/caramel-nutella-popcorn-recipe/
October 19 – Fruity Candy Corn
http://www.pinterest.com/pin/402368547931080223/
October 20 – Dr. Pepper TEN Caramel Popcorn
http://flippindelicious.com/2014/10/dr-pepper-ten-caramel-popcorn.html
October 21 – Gingerbread Kettle Corn
http://www.wineandglue.com/2013/12/gingerbread-kettle-corn.html
DIY – Halloween Scrapbook and Goodie Bag
Supplies Needed:
Lunch Bag x 4
Ribbon
Hole puncher
Stickers – Halloween Theme or Foam Shapes
Step 1 
Stack your paper lunch bags alternating open end closed end.
Step 2
Fold bags in half to form a book punch two holes near the corners of the folded end, thread a ribbon through both punched holes and tie in a bow.
Step 3
Decorate with stickers the front and back and you can stick candy or items in the open pages and staple closed.
Ingredients
8 large eggs
1/4 cup drained and chopped jarred roasted red peppers
3 tablespoons mayonnaise
1 teaspoon Dijon mustard
1/4 teaspoon paprika, plus more for sprinkling
Salt and pepper
3 chives, cut into 16 1/2-inch pieces
Preparation
1. Bring a large pot of water to a boil over high heat. Gently lower eggs into water, return to a boil and reduce heat to a low simmer. Cook eggs 11 minutes, drain and place in a large bowl of ice water. Cool completely, at least 10 minutes.
2. Crack eggs and carefully peel under cool running water. Slice in half lengthwise, scoop out yolks and place them in a food processor with peppers, mayonnaise, mustard and paprika. Cover and refrigerate whites. Process yolk mixture until smooth; taste and season with salt and pepper.
3. Transfer yolk mixture to a pastry bag fitted with a large round tip or a large ziplock bag. If using a bag, squeeze out air, seal and snip off a corner. Pipe about 1 Tbsp. filling into center of each egg white, to resemble a pumpkin. Set a piece of chive diagonally into filling to resemble a stem. Sprinkle yolks with paprika. Serve immediately or cover and refrigerate for up to a day.
Recipe from September All of You.