July Belongs To Berries  - 31 Days of Recipes to Celebrate
July 1 – Mixed Berry Raspberry Cream Tart
http://www.myrecipes.com/recipe/mixed-berry-raspberry-cream-tart-10000001194598/
July 2 – Berry Jello Parfaits
http://www.butterwithasideofbread.com/2014/04/berry-jell-o-parfaits.html
July 3 – Berry Fruit Smoothies
http://spoonful.com/recipes/berry-fruit-smoothies
July 4 – Triple Berry Pie
July 5 – Blackberry Hazelnut Honey Crisp
Blackerry Hazelnut Honey Crisp
July 6 – Blackberry Syrup
July 7 – Summer Berry Sangria
July 8 – Slow COoker Berry Cobbler
July 9 – Cranberry Jello
July 10 – Strawberry Orange Sorbet
July 11 - Raspberry Breakfast Cake
July 12 – Jumbo Blueberry Muffin
July 13 – Dried Strawberries Ruscalleda
July 14 – Watermelon Blackberry Mint Salad
Watermelon Blackberry Mint Salad
July 15 – Blackberry Ice Cream
July 16 – Berry-Topped White Cupcakes
http://www.pinterest.com/pin/25473554115280834/
July 17 – Summer Berry Tart
http://www.thecomfortofcooking.com/2013/07/summer-berry-tart.html
July 18 – How to make berries last longer
http://www.pinterest.com/pin/99782947966013216/
July 19 – Very Berry Frosted Cheerios & Popcorn Snack Mix
http://www.pinterest.com/pin/76279787413850195/
July 20 – Easy Berry Mini Cheesecake
http://www.pinterest.com/pin/112027109451435401/
July 21 – Focaccia Bread Recipe with Berries
http://www.aspicyperspective.com/2014/07/focaccia-bread-recipe-with-berries.html
July 22 – Roasted Berry Napoleons
http://www.pinterest.com/pin/311592867942142117/
July 23 – Triple Berry Fruit
http://www.tastesoflizzyt.com/2014/06/24/triple-berry-fruit-dip/
July is National Picnic Month – 31 Days of Recipes to Celebrate
July 1 – Light and fresh Veggie Wraps
http://www.cookingwithk.net/2011/08/lite-and-fresh-veggi-wraps.html
July 2 – Six Perfect Picnic Foods
https://shine.yahoo.com/shine-food/lunch-6-perfect-picnic-foods-10-minutes-191700659.html
July 3 – Pockets of Fun
http://www.thinkgarnish.com/blog/2012/01/05/pockets-of-fun/
July 4 – Grape Kabobs
July 5 – Cucumber Sandwiches

Cucumber Sandwiches
July 6 – Apple Peanut Butter and Jelly
July 7 – Strawberry Mandarin Orange Spinach Salda
Strawberry Mandarin Orange Spinach Salad
July 8 – Skinny Thai Shrimp Pasta
July 9 – Creamy Avocado Pasta Salad
July 10 – Watermelon Sticks
July 11 – Tomato Avocado Wraps
July 12 – Pesto Potato Salad
July 13 – How to Pack the Perfect Picnic Basket
The Chew – Perfect Picnic Basket
July 14 – Seven Layered Salad in a Jar
http://accomplishedwoman.blogspot.com/2012/06/seven-layered-salad-in-jar.html
July 15 – Pinto Bean Dip
http://www.countryliving.com/recipefinder/pinto-bean-dip-recipe
July 16 – Picnic Cupcakes
http://hoosierhomemade.com/cupcake-tuesdaymemorial-day-cupcakes/
July 17 – Mason Jar Picnic Ideas
http://www.yourhomebasedmom.com/mason-jar-picnic-ideas/
July 18 – Super Perfect Sandwich
http://www.pinterest.com/pin/108508672242106941/
July 19 – Stuffed Baguette
http://www.familyfreshmeals.com/2012/02/stuffed-baguette.html
July 20 – 50+ Ideas for a Kids Picnic
http://kidsactivitiesblog.com/50635/kids-picnic-ideas
July 21 – Sandwich kebab-style
July 22 – Greek Tortellini Salad/strong
http://www.twopeasandtheirpod.com/greek-tortellini-salad//
July 23 – Oktoberfest Theme Picnic
Celebrate July with these Food and Holidays all Month Long!
Printable July Calendar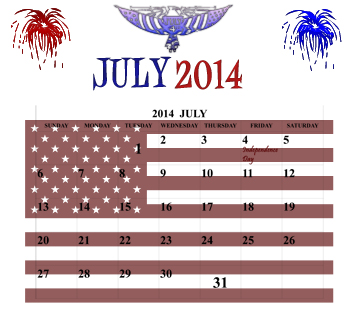 July Birth Flower is Larkspur / Delphinium
July Birthstone is Ruby
Zodiac for July
Cancer – June 21 – July 22 - is healing, nurturing, sensitivity seeking psychological understanding, emotional self-expression, and the capacity to heal others. The house where your Cancer rules is where you will be challenged to create a "safe place" in which to grow emotionally. Here you have deep feelings, and tend to be super-sensitive and defensive.
Leo – July 23 – August 22 - is self-expression seeking confidence, ease, and honor in the social world. The house where your Leo rules is where you will be challenged to "shine"; to apply the positive, creative qualities of your sun sign, and find a sense of inner peace.

Food Holidays for the month:
National Grilling Month
National Ice Cream Month
National Hot Dog Month
National Pickle Month
National Bison Month
Weekly Food Holidays:

Week One

National Canned Luncheon Meat Week
Week Two

 

National Canned Luncheon Meat week
Week Three

Sunday Sunday is the 3rd Sunday
Week Four
Don't Eat Meat Week

National 

Salad

 Week
July is National Month of:
Tahiti and Her Islands Awareness Month
National Get Along with Your Ex Month
National Recreation and Park Month
National Purposeful Parenting Month
National Doghouse Repairs Month
National Foreign Language Month
American Independence Month
National Anti Boredom Month
National Hay Month
Cell Phone Courtesy Month
Fireworks Safety Month
Eye Exam Month
Red, White, and Blue Month
Wild About Wildlife Month
National Culinary Arts Month
National Tennis Month
Read a Almanac Month
National Outdoor Month
National Bison Month
California Salmon Month
National Mobility Month
Sandwich Generation Month
Week One

Freedom Week
Be Nice to Jersey Week
Great Circus Parade Week
Take Charge of Change Week
Prevention of Eye Injuries Awareness Week
Week Two

Music for Life Week
National Laughter Week
National Laundry Workers' Week
Take Charge of Change Week
National Therapeutic Recreation Week
Week Three

Space Week
Promote Playful Professionalism Week
Lyme Disease Awareness Week
Coral Reef Awareness Week
Week Four

Today is July 24
Amelia Earhart Day
My Cousin's Day
Pioneer Day
Food Holidays 
National Tequila Day 
http://thestir.cafemom.com/food_party/137082/sugary_tequila_cookies_will_melt
Instant Coffee Day (Introduced in 1938)

Coffee Smoothie
Today in History – Interesting Highlights 
In the News
1901 – O. Henry is released from prison in Columbus, Ohio after serving three years for embezzlement from a bank.
1910 – The Ottoman Empire captures the city of Shkodër, putting down the Albanian Revolt of 1910.
1911 – Hiram Bingham III re-discovers Machu Picchu, "the Lost City of the Incas".
1915 – The passenger ship S.S. Eastland capsizes while tied to a dock in the Chicago River. A total of 844 passengers and crew are killed in the largest loss of life disaster from a single shipwreck on the Great Lakes.
1922 – The draft of the British Mandate of Palestine was formally confirmed by the Council of the League of Nations; it came into effect on 26 September 1923.
1923 – The Treaty of Lausanne, settling the boundaries of modern Turkey, is signed in Switzerland by Greece, Bulgaria and other countries that fought in World War I.
1924 – Archeologist Themistoklis Sofoulis becomes Prime Minister of Greece.
1927 – The Menin Gate war memorial is unveiled at Ypres.
1929 – The Kellogg–Briand Pact, renouncing war as an instrument of foreign policy, goes into effect (it is first signed in Paris on August 27, 1928 by most leading world powers).
1931 – A fire at a home for the elderly in Pittsburgh, Pennsylvania kills 48 people.
1935 – The Dust Bowl heat wave reaches its peak, sending temperatures to 109°F (43°C) in Chicago, Illinois and 104°F (40°C) in Milwaukee, Wisconsin.
1937 – Alabama drops rape charges against the so-called "Scottsboro Boys".
1938 – First ascent of the Eiger north face.
1943 – World War II: Operation Gomorrah begins: British and Canadian aeroplanes bomb Hamburg by night, and American planes by day. By the end of the operation in November, 9,000 tons of explosives will have killed more than 30,000 people and destroyed 280,000 buildings.
1950 – Cape Canaveral Air Force Station begins operations with the launch of a Bumper rocket.
1959 – At the opening of the American National Exhibition in Moscow, U.S. Vice President Richard Nixon and Soviet Premier Nikita Khrushchev have a "Kitchen Debate".
1963 – The iconic Bluenose II was launched in Lunenburg, Nova Scotia. The schooner is a major Canadian symbol.
1966 – Michael Pelkey makes the first BASE jump from El Capitan along with Brian Schubert. Both came out with broken bones. BASE jumping has now been banned from El Cap.
1967 – During an official state visit to Canada, French President Charles de Gaulle declares to a crowd of over 100,000 in Montreal: Vive le Québec libre! ("Long live free Quebec!"). The statement, interpreted as support for Quebec independence, delighted many Quebecers but angered theCanadian government and many English Canadians.
1969 – Apollo program: Apollo 11 splashes down safely in the Pacific Ocean.
1972 – Bugojno group is caught by Yugoslav security forces.
1974 – Watergate scandal: the United States Supreme Court unanimously ruled that President Richard Nixon did not have the authority to withhold subpoenaed White House tapes and they order him to surrender the tapes to the Watergate special prosecutor.
1974 – Konstantinos Karamanlis arrives in Greece following the collapse of the Greek military junta, beginning Greece's metapolitefsi era.
1977 – End of a four day long Libyan–Egyptian War.
1980 – The Quietly Confident Quartet of Australia wins the Men's 4 x 100 metre medley relay at the Moscow Olympics, the only time the United States has not won the event at Olympic level.
1982 – Heavy rain causes a mudslide that destroys a bridge at Nagasaki, Japan, killing 299.
1983 – The Black July anti-Tamil riots begin in Sri Lanka, killing between 400 and 3,000. Black July is generally regarded as the beginning of the Sri Lankan Civil War.
1983 – George Brett batting for the Kansas City Royals against the New York Yankees, has a game-winning home run nullified in the "Pine Tar Incident".
1990 – Iraqi forces start massing on the Kuwait-Iraq border.
1991 – Manmohan Singh presents his budget speech to the Indian Parliament which led to economic liberalisation in India
1998 – Russell Eugene Weston, Jr. bursts into the United States Capitol and opens fire killing two police officers. He is later ruled to be incompetent to stand trial.
2001 – Simeon Saxe-Coburg-Gotha, the last Tsar of Bulgaria when he was a child, is sworn in as Prime Minister of Bulgaria, becoming the firstmonarch in history to regain political power through democratic election to a different office.
2001 – Bandaranaike Airport attack is carried out by 14 Tamil Tiger commandos, all died in this attack. They destroyed 11 Aircraft (mostly military) and damaged 15, there are no civilian casualties. This incident slowed down Sri Lankan economy.
2002 – Democrat James Traficant is expelled from the United States House of Representatives on a vote of 420 to 1.
2009 – The MV Arctic Sea, reportedly carrying a cargo of timber, is allegedly hijacked in the North Sea by pirates, but much speculation remains as to the actual cargo and events.
2011 – Digital switchover is completed in 44 of the 47 prefectures of Japan, with Iwate, Miyagi[

disambiguation needed

], and Fukushima television stations terminating analog broadcasting operations later as a result of the Tōhoku earthquake.
2013 – A high-speed train derails in Spain rounding a curve with an 80 km/h (50 mph) speed limit at 190 km/h (120 mph), killing 78 passengers.
Holidays and Observances
Children's Day (Vanuatu)
Christian Feast Day:

Charbel
Christina the Astonishing
Christina of Bolsena
Declán of Ardmore
Kinga of Poland

Pioneer Day (Utah) and its related observances:

Stirling Settler Days (Stirling, Alberta)

Simón Bolívar Day (Ecuador, Venezuela, Colombia, and Bolivia) 
Music
1849 – Georgetown University in Washington, DC, presented its first Doctor of Music Degree. It was given to Professor Henry Dielman.
1880 – Composer Ernest Bloch was born.
1938 – Artie Shaw recorded "Begin the Beguine."
1965 – The Beach Boys' "California Girls" was released.
1967 – The Elvis Presley movie "Double Trouble" premiered.
1976 – Hall & Oates' "She's Gone" was released.
1978 – The movie "Sergeant Pepper's Lonely Hearts Club Band," starring Peter Frampton and the Bee Gees, opened in New York City, NY.
1979 – Little Richard, billed as the Reverend Richard Penniman, spoke to a revival meeting in San Francisco about the dangers of rock & roll.
1987 – The movie biography of Richie Valens, "La Bamba," opened.
1990 – Pantera released "Cowboys From Hell." It was their first major label release.
1990 – A wrongful death trial involving Judas Priest opened in Reno, NV. Parents had charged in a lawsuit that the band's "Stained Class" album contained subliminal messages that drove two teen-agers to attempt suicide. The judge cleared the group.
1995 – A three-night celebration of Frank Sinatra's 80th birthday began at Carnegie Hall.
1995 – Public Enemy postponed its televised farewell concert in Great Britain because Flava Flav broke his arm in a scooter accident.
1998 – Tanya Tucker filed a $300,000 lawsuit against Capitol Records Nashville. The charge was that the label has willfully neglected her career.
1998 – Aerosmith announced that they were postponing the first 13 dates of their U.S. tour. Drummer Joey Krammer had received second-degree burns in a gas station fire.
Movies Released on July 24
Wolfen 1981
Tarzan, the Ape Man 1981
The Black Cauldron 1985
Superman IV: Quest For Peace 1987
Afraid of the Dark 1991
Disturbing Behavior 1998
Demonicus 2001
Blood Sucking Babes From Burbank 2006
Crawler 2009
Mutilation Mile 2009
Orphan 2009
The Sphere of the Lycanthrope 2009 
Television
 1953 - KEYT TV channel 3 in Santa Barbara, CA (ABC) begins broadcasting
1957 - KTVC TV channel 6 in Ensign, KS (CBS) begins broadcasting
1961 - Edwin Newman becomes news anchor of Today Show
Sports 
1908 - John Hayes wins 4th olympics marathon (2:55:18.4 world record)
1909 - Bkln Dodger Nap Rucker strikes out 16 Pittsburgh Pirates
1929 - NY to SF foot race ends (2½ months) winner is 60 year old Monteverde
1973 - All star MVP: Bobby Bonds (SF Giants)
Famous Birthdays
1900 – Zelda Fitzgerald, American author (d. 1948)
1901 – Francisco Fernández Fernández, Spanish super-centenarian (d. 2012)
1904 – Leo Arnaud, French-American composer (d. 1991)
1904 – Richard B. Morris, American historian (d. 1989)
1910 – Harry Horner, American art director (d. 1994)
1912 – Essie Summers, New Zealand author (d. 1998)
1913 – Britton Chance, American biologist and sailor (d. 2010)
1914 – Ed Mirvish, American-Canadian businessman and philanthropist (d. 2007)
1915 – Enrique Fernando, Filipino jurist, 13th Chief Justice of the Supreme Court of the Philippines (d. 2004)
1915 – Dick Sprang, American illustrator (d. 2000)
1916 – Bob Eberly, American singer (d. 1981)
1916 – John D. MacDonald, American author (d. 1986)
1917 – Robert Farnon, Canadian trumpet player, composer, and conductor (d. 2005)
1917 – Jack Moroney, Australian cricketer (d. 1999)
1918 – Ruggiero Ricci, American violinist (d. 2012)
1919 – Robert Marsden Hope, Australian jurist (d. 1999)
1919 – Ferdinand Kübler, Swiss cyclist
1920 – Bella Abzug, American lawyer and politician (d. 1998)
1920 – Constance Dowling, American model and actress (d. 1969)
1921 – Giuseppe Di Stefano, Italian tenor (d. 2008)
1922 – Madeleine Ferron, Canadian author (d. 2010)
1924 – Wilfred Josephs, English composer (d. 1997)
1924 – Aris Poulianos, Greek anthropologist and archaeologist
1927 – Zara Mints, Russian-Estonian literary scientist (d. 1990)
1929 – Alfred Binns, Jamaican cricketer
1930 – Alfred Balk, American journalist and author (d. 2010)
1930 – Keshubhai Patel, Indian politician, 10th Chief Minister of Gujarat
1931 – Ermanno Olmi, Italian director, screenwriter, and cinematographer
1931 – Éric Tabarly, French commander and sailor (d. 1998)
1932 – Gustav Andreas Tammann, German astronomer
1933 – John Aniston, Greek-American actor
1933 – Doug Sanders, American golfer
1934 – Sante Kimes, American murderer (d. 2014)
1934 – P. S. Soosaithasan, Sri Lankan politician
1935 – Aaron Elkins, American author
1935 – Pat Oliphant, Australian cartoonist
1935 – Derek Varnals, South African cricketer
1936 – Ruth Buzzi, American actress
1936 – Mark Goddard, American actor
1936 – Dan Inosanto, American martial artist and actor
1936 – Albert Marrin, American historian and author
1937 – Manoj Kumar, Indian actor, director, producer, and screenwriter
1938 – Alexis Jacquemin, Belgian economist (d. 2004)
1938 – Eugene J. Martin, American painter
1938 – John Sparling, New Zealand cricketer
1939 – Walt Bellamy, American basketball player (d. 2013)
1940 – Rex Garvin, American singer-songwriter and keyboard player (d. 2013)
1940 – Stanley Hauerwas, American theologian and educator
1940 – Dan Hedaya, American actor
1942 – Heinz, German-English singer-songwriter and bass player (The Tornados) (d. 2000)
1942 – David Miner, American singer-songwriter, guitarist, and producer (The Great Society)
1942 – Chris Sarandon, American actor
1944 – Jim Armstrong, Irish guitarist (Them)
1945 – Linda Harrison, American actress
1945 – Azim Premji, Indian businessman and philanthropist
1945 – Hugh Ross, Canadian-American astrophysicist
1946 – Gallagher, American comedian
1946 – Mark Brovun, Ukrainian art director (d. 2012)
1946 – Friedhelm Haebermann, German footballer and manager
1946 – Hervé Vilard, French singer
1947 – Zaheer Abbas, Pakistani cricketer
1947 – Robert Hays, American actor and producer
1947 – Geoff McQueen, English screenwriter (d. 1994)
1947 – Peter Serkin, American pianist
1949 – Yves Duteil, French singer-songwriter and guitarist
1949 – Michael Richards, American actor, screenwriter, and producer
1950 – Arliss Ryan, American author
1951 – Lynda Carter, American actress and singer
1951 – Gypie Mayo, English guitarist and songwriter (Dr. Feelgood and The Yardbirds) (d. 2013)
1951 – Chris Smith, Baron Smith of Finsbury, English politician
1952 – Gus Van Sant, American director, producer, and screenwriter
1953 – Jon Faddis, American trumpet player, composer, and conductor
1953 – Claire McCaskill, American lawyer and politician
1954 – Günter Böttcher, German handball player (d. 2012)
1955 – Brad Watson, American author
1956 – Charlie Crist, American politician, 44th Governor of Florida
1956 – Pat Finn, American game show host and producer
1957 – Larry Gott, English singer and guitarist (James)
1957 – Pam Tillis, American singer-songwriter, guitarist, and actress
1958 – Joe Barry Carroll, American basketball player
1958 – Mick Karn, Cypriot-English guitarist and songwriter (Japan, Dalis Car, NiNa, and JBK) (d. 2011)
1958 – Jim Leighton, Scottish footballer and coach
1961 – Kerry Dixon, English footballer and manager
1961 – Paul Geary, American singer, drummer, and manager (Extreme)
1962 – Johnny O'Connell, American race car driver
1963 – Julie Krone, American jockey
1963 – Karl Malone, American basketball player and coach
1964 – Barry Bonds, American baseball player
1964 – Pedro Passos Coelho, Portuguese politician, 118th Prime Minister of Portugal
1964 – Urmas Kaljend, Estonian footballer
1964 – John Rosengren, American author
1964 – Banana Yoshimoto, Japanese author
1965 – Andrew Gaze, Australian basketball player and sportscaster
1965 – Kadeem Hardison, American actor, director, and screenwriter
1965 – Doug Liman, American director and producer
1966 – Mo-Do, Italian singer-songwriter (d. 2013)
1966 – Martin Keown, English footballer and coach
1968 – Kristin Chenoweth, American actress and singer
1968 – Colleen Doran, American author and illustrator
1968 – Malcolm Ingram, Canadian director, producer, and screenwriter
1968 – Laura Leighton, American actress
1969 – Rick Fox, Bahamian basketball player and actor
1969 – Ahn Ji-hwan, South Korean voice actor
1969 – Jennifer Lopez, American actress, singer, and dancer
1970 – Stephanie Adams, American model and author
1970 – Elli Kokkinou, Greek singer
1971 – Dino Baggio, Italian footballer
1971 – John Partridge, English actor, singer, and dancer
1972 – Kaiō Hiroyuki, Japanese sumo wrestler
1972 – Jen Miller, American actress, screenwriter, and producer
1973 – Amanda Stretton, English female racing driver and motoring journalist
1975 – Dafydd James, Zambian-Welsh rugby player
1975 – Jamie Langenbrunner, American ice hockey player
1975 – Eric Szmanda, American actor
1975 – Torrie Wilson, American wrestler and model
1976 – Rafer Alston, American basketball player
1976 – Nate Bump, American baseball player
1976 – Laura Fraser, Scottish actress
1976 – Tiago Monteiro, Portuguese race car driver
1977 – Danny Dyer, English actor
1977 – Mehdi Mahdavikia, Iranian footballer
1977 – Aitor Pérez, Spanish cyclist
1978 – Andy Irons, American surfer (d. 2010)
1978 – Crista Nicole, American model
1978 – Joanna Taylor, English model and actress
1979 – Rose Byrne, Australian actress
1979 – Alexis Mateo, Puerto Rican drag queen performer
1979 – Jerrod Niemann, American singer-songwriter and guitarist
1979 – Stat Quo, American rapper
1979 – Valerio Scassellati, Italian race car driver
1979 – Anne-Gaëlle Sidot, French tennis player
1979 – Lee Si-yeon, South Korean actress
1979 – Mark Andrew Smith, American author
1979 – Ryan Speier, American baseball player
1980 – Gauge, American porn actress
1980 – Wilfred Bungei, Kenyan runner
1980 – Joel Stroetzel, American guitarist (Killswitch Engage and Aftershock)
1981 – Summer Glau, American actress
1981 – Mark Robinson, English footballer
1982 – Chris Barrett, American director, producer, and author
1982 – Élise Crombez, Belgian model
1982 – Luka Magnotta, Canadian porn actor and model
1982 – Trevor Matthews, Canadian actor and producer, founded Brookstreet Pictures
1982 – Thiago Medeiros, Brazilian race car driver
1982 – Mewelde Moore, American football player
1982 – Elisabeth Moss, American actress
1982 – Anna Paquin, Canadian-New Zealand actress
1982 – Michael Poppmeier, South African-German rugby player
1983 – Daniele De Rossi, Italian footballer
1983 – Joey Kovar, American model (d. 2012)
1983 – Asami Mizukawa, Japanese actress
1984 – Patrick Harvey, Irish-Australian actor
1984 – Tyler Kyte, Canadian actor, singer, and drummer (Sweet Thing)
1984 – Dhani Lennevald, Swedish singer and dancer (A-Teens)
1984 – Leanne Moore, Irish singer
1984 – Adam Nelson, Scottish footballer
1984 – Joris Putman, Dutch actor
1985 – Patrice Bergeron, Canadian ice hockey player
1985 – Aries Merritt, American hurdler
1985 – Teagan Presley, American porn actress
1985 – Lukáš Rosol, Czech tennis player
1985 – Eric Wright, American football player
1986 – Vugar Gashimov, Azerbaijani chess player (d. 2014)
1986 – Andrei Lutai, Russian figure skater
1986 – Megan Park, Canadian actress
1986 – Kaido Saks, Estonian basketball player
1986 – Natalie Tran, Australian blogger
1987 – Jovan Belcher, American football player (d. 2012)
1987 – Filipe Francisco dos Santos, Brazilian footballer
1987 – Nathan Gerbe, American ice hockey player
1987 – Merve Sevi, Turkish actress
1987 – Mara Wilson, American actress and playwright
1988 – Ricky Petterd, Australian footballer
1988 – Han Seung-yeon, South Korean singer, dancer, and sctress (Kara)
1989 – Maurkice Pouncey, American football player
1989 – Kim Tae-Hwan, South Korean footballer
1990 – Daveigh Chase, American actress and singer
1990 – Jay McGuiness, English singer (The Wanted)
1990 – Dean Stoneman, English race car driver
1991 – Jarred Blakiston, New Zealand actor
1991 – Manuel Fischnaller, Italian footballer
1991 – Lin Yue, Chinese diver
1992 – Dmitry Abyzov, Russian footballer
1992 – Mikaël Kingsbury, Canadian skier
1998 – Bindi Irwin, Australian television host, actress, and singer
Deaths
1908 – Vicente Acosta, Salvadoran poet (b. 1867)
1910 – Arkhip Kuindzhi, Russian painter (b. 1841)
1922 – Saint George Ashe, Maltese-English rower (b. 1871)
1927 – Ryūnosuke Akutagawa, Japanese author (b. 1892)
1957 – Sacha Guitry, French actor and director (b. 1885)
1962 – Wilfrid Noyce, English mountaineer and author (b. 1917)
1965 – Constance Bennett, American actress, singer, and producer (b. 1904)
1966 – Tony Lema, American golfer (b. 1934)
1969 – Witold Gombrowicz, Polish author (b. 1904)
1970 – Peter de Noronha, Indian businessman, philanthropist, and civil servant (b. 1897)
1974 – James Chadwick, English physicist, Nobel Prize laureate (b. 1891)
1980 – Uttam Kumar, Indian actor, director, and producer (b. 1926)
1980 – Peter Sellers, English actor, singer, director, and screenwriter (b. 1925)
1985 – Ezechiele Ramin, Italian missionary and martyr (b. 1953)
1986 – Fritz Albert Lipmann, German-American chemist, Nobel Prize laureate (b. 1899)
1986 – Qudrat Ullah Shahab, Pakistani civil servant and author (b. 1917)
1991 – Isaac Bashevis Singer, Polish-American author, Nobel Prize laureate (b. 1904)
1992 – Arletty, French actress and singer (b. 1898)
1992 – Sam Berger, Canadian lawyer and businessman (b. 1900)
1993 – Rene Requiestas, Filipino actor (b. 1957)
1995 – Marjorie Cameron, American actress and painter (b. 1922)
1995 – Jerry Lordan, English singer-songwriter (b. 1934)
1995 – George Rodger, English photographer and journalist (b. 1908)
1996 – Alphonso Theodore Roberts, Vincentian cricketer and activist (b. 1937)
1997 – William J. Brennan, Jr., American colonel and jurist (b. 1906)
1997 – Saw Maung, Burmese general and politician, 7th Prime Minister of Burma (b. 1928)
2000 – Ahmad Shamloo, Iranian poet and journalist (b. 1925)
2000 – G. Wood, American actor (b. 1919)
2001 – Georges Dor, Canadian author, playwright, and composer (b. 1931)
2004 – Bob Azzam, Lebanese singer (b. 1925)
2005 – Richard Doll, English physiologist (b. 1912)
2007 – Albert Ellis, American psychologist (b. 1913)
2007 – Chaney Kley, American actor (b. 1972)
2007 – Nicola Zaccaria, Greek opera singer (b. 1923)
2008 – Norman Dello Joio, American composer (b. 1913)
2010 – Alex Higgins, Irish snooker player (b. 1949)
2011 – Frank Dietrich, German politician (b. 1966)
2011 – Dan Peek, American singer-songwriter and guitarist (America) (b. 1950)
2011 – David Servan-Schreiber, French physician, neuroscientist, and author (b. 1961)
2011 – Skip Thomas, American football player (b. 1950)
2012 – Chad Everett, American actor (b. 1936)
2012 – Sherman Hemsley, American actor (b. 1938)
2012 – Larry Hoppen, American singer and guitarist (Orleans) (b. 1951)
2012 – Robert Ledley, American physiologist and physicist, invented the CT scanner (b. 1926)
2012 – Themo Lobos, Chilean author and illustrator (b. 1928)
2012 – John Atta Mills, Ghanaian politician, 3rd President of Ghana (b. 1944)
2012 – Gregorio Peces-Barba, Spanish jurist and politician (b. 1938)
2013 – Steve Berrios, American drummer (b. 1945)
2013 – Garry Davis, American pilot and activist, created the World Passport (b. 1921)
2013 – Fred Dretske, American philosopher (b. 1932)
2013 – Virginia E. Johnson, American psychologist and sexologist (b. 1925)
2013 – Pius Langa, South Africa jurist, 19th Chief Justice of South Africa (b. 1939)
2013 – Chiwoniso Maraire, Zimbabwean singer-songwriter (b. 1976)
2013 – Ryuchi Matsuda, Japanese author (b. 1938)
2013 – Donald Symington, American actor (b. 1925)
Put a few tablespoons of lemon juice and water into a spray bottle to make all natural glass, mirror cleaner.
Simmer some lemon peels in a bowl of water on stove along with cinnamon sticks for a natural air freshener, to make your room fresh.
Place few lemon peels in a small jar and then add white vinegar. Keep it aside for 2 weeks and then use this lemon vinegar cleanser as you would your normal all purpose cleaner.
To brighten whites, add 1/4 to 1/2 cup of lemon juice to the wash cycle to brighten up those fading whites.
Make a natural furniture polish, combine 1 part lemon juice with 2 parts olive oil to clean and polish your furniture.
Place small slices of lemon peel along thresholds, windowsills, door entrances, or near  cracks or holes where ants or pests are lurking about.
Throw a few lemon peels in the bottom of the can. This will also help absorb odors and keep things smelling fresh.
Cleans knives sprinkle some sea salt on the metal, and then use the lemon peel to scrub away any dirt, grime, or stains. Rinse and polish!
Throw lemon rinds with the pulp into your dish water to help remove grease and make glasses and silverware sparkle.
Take half a squeezed lemon with pulp intact, and rub vigorously over a cutting board that has been sprinkled with a coarsely ground salt (like kosher salt). Rinse well and allow to dry.